Overwhelmed by the number of metrics available in Facebook Ads Manager? Do you know which ones to concentrate on?
This article will provide you with ten key metrics to consider when analyzing your Facebook ads. You'll also learn how to track them with a custom report.
Metrics from Facebook Ads Tracking in a Custom Report
When it comes to Facebook ad metrics, they can be divided into two categories: default and custom. The default metrics are already present in Ads Manager and can be selected when creating your custom report. Custom metrics, on the other hand, are those that you create using various formulas to display data that isn't standard in your ad account.
To name a few, the sheer number of Facebook ad metrics you could analyze in your ad account can be overwhelming—reach, impressions, frequency, results, click-through rate (CTR), quality score, conversion ranking, and return on ad spend (ROAS). And with the ability to create custom metrics, the possibilities are limitless.
I'm going to walk you through how to add 10 core metrics (both default and custom) to a custom report to measure the true impact of your Facebook advertising on your business and how it's generating new sales and customers.
1: In Facebook Ads Manager, create a new custom report.
To begin, you'll need to create a custom report in order to combine all of the default and custom metrics we'll be discussing into a single data view. This will allow you to easily compare these metrics across all of your campaigns, ad sets, and ads.
Assume you're using Facebook ads to generate sales for your company and are optimizing for purchases with the Conversions campaign objective. Your campaign's goal is to generate a purchase action, which translates into a sale of your product or service. This could be something tangible, such as a sale of a product in an eCommerce business run by Shopify, or it could be something intangible, such as a sale of a product in an information business run by Kajabi or SamCart.
Open your Facebook Ads Manager dashboard and click the columns button on the far right of the screen to create a custom report. Then you'll see a list of all the default metrics, with Performance selected by default.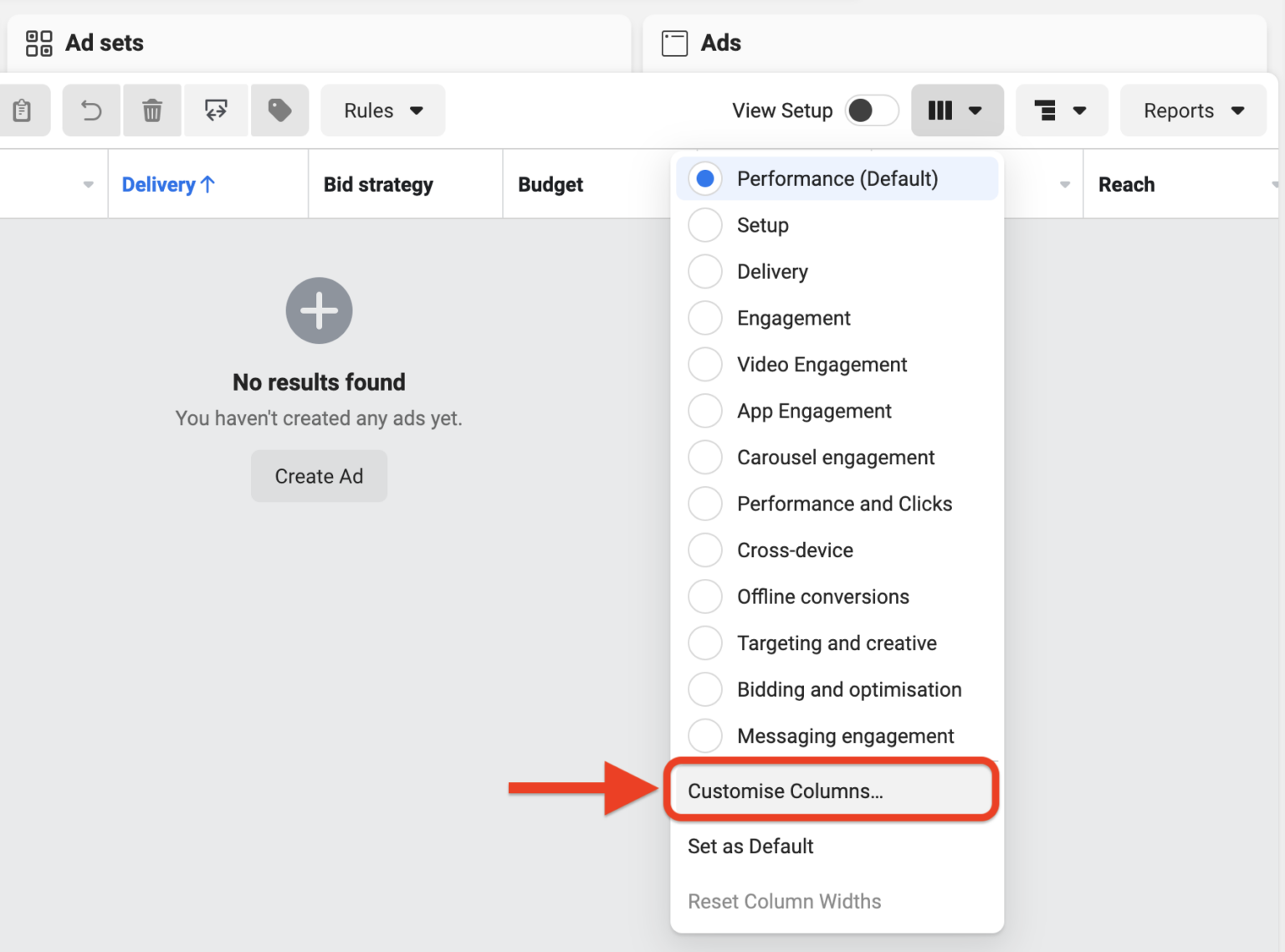 Scroll all the way down to the bottom of the list and click Customize Columns. You will be able to drag and drop the metrics you want to track into your reporting dashboard as a result of this.
There are three columns in the Customize Columns window. The categories of metrics to choose from are on the left, the middle is where you select your metrics, and the right column lists the metrics that will be included in this reporting view.
Facebook allows you to delete metrics that you don't want to use in your custom report and drag and drop them to reorder them in the list of metrics on the right.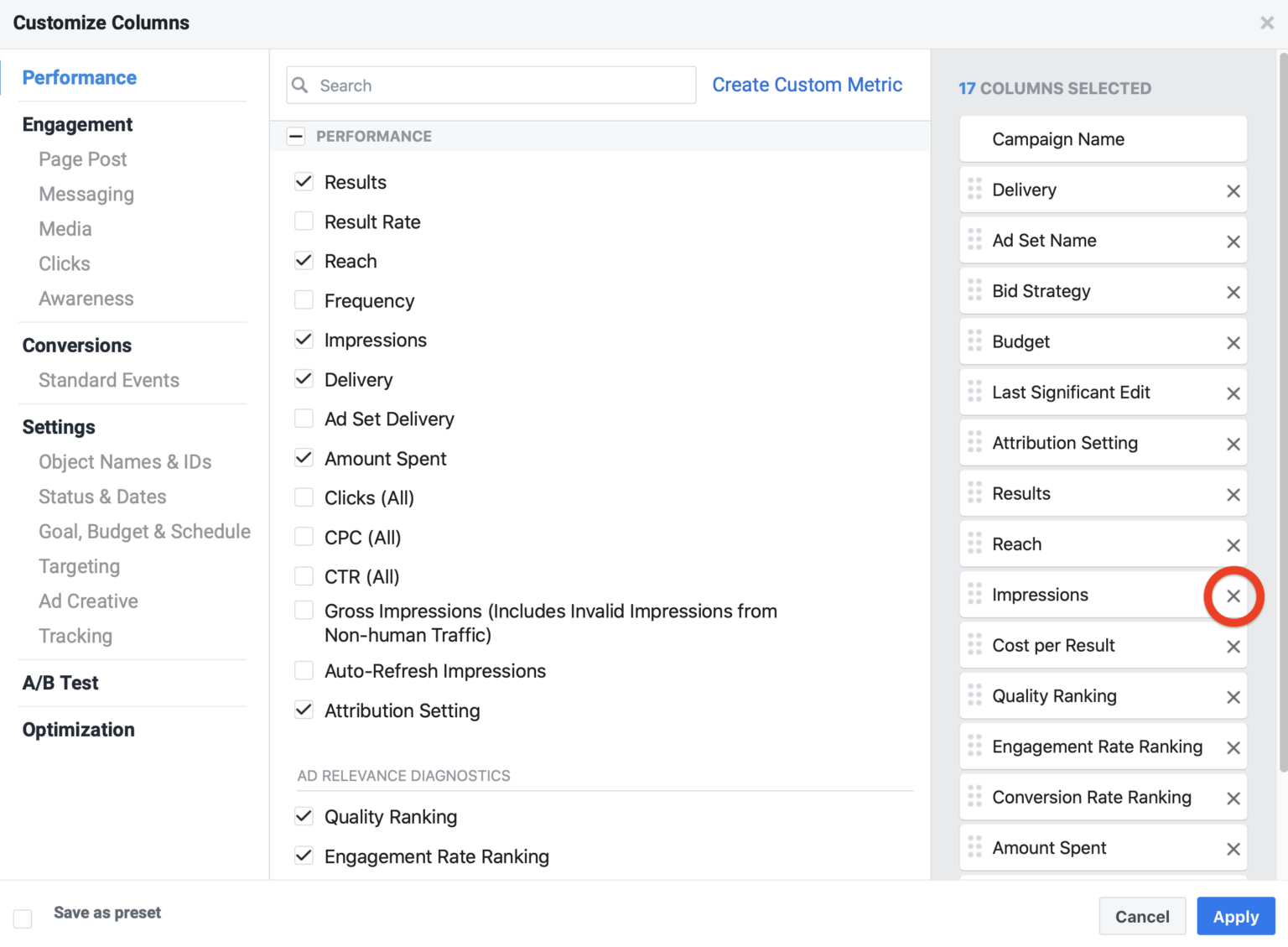 Begin by removing the following metrics from the right column:
Quality ranking impressions
Ranking of engagement rates
3-second video play conversion rate ranking
Video viewership percentage Video average play time
Simply click the X to the right of the metric to delete it.
When you're done, begin adding metrics to your custom report alongside the default performance metrics (such as results and cost per result) that you didn't delete.