There are numerous marketing job boards available, but which ones are worth your time?
To answer this question, we asked Twitter for suggestions, added those we've personally used, and spent some time poking around each of them.
Here are the marketing job boards that made the cut in our roundup of the best marketing job boards to hire or be hired on:
Hey Marketers
DGMG Jobs
Remotive
Dynamite Jobs
AngelList
We Work Remotely (WWR)
Jobspresso
Demand Curve
Remoters
Problogger
1-Hey Marketers
Who it's for: Remote marketers
Website: https://heymarketers.com/
Cost per job listing: $99 for 30 days
Hey Marketers focuses solely on permanent remote marketing roles—and we can attest to its dependability because we've posted jobs here ourselves.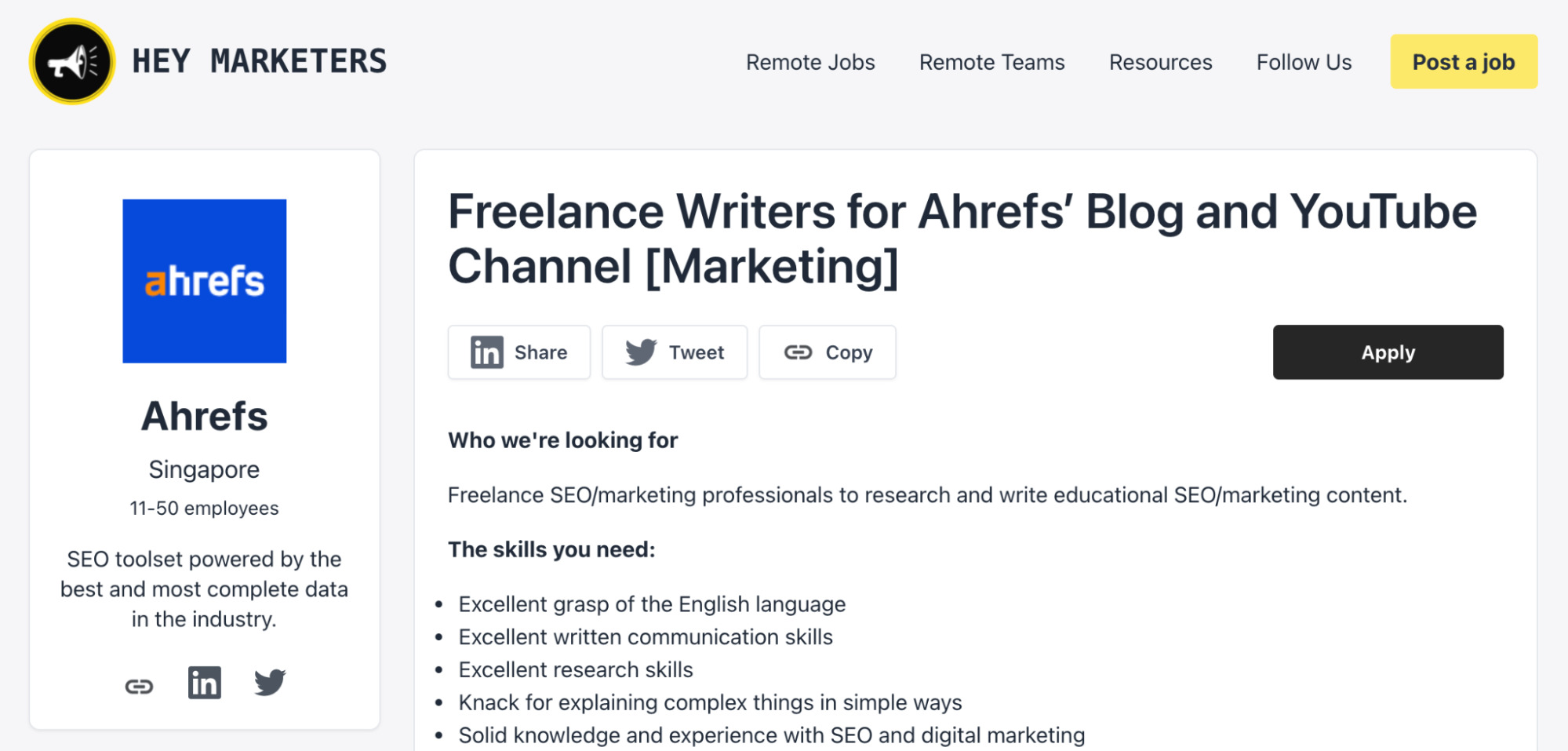 We estimated that there were over 1,300 open jobs on the platform at the time of the last count. Digital marketing, content strategy, campaign management, and copywriting are all jobs in the marketing category.
Perhaps the biggest plus point of the site is the caliber of listings, many of which come from established and rising tech companies like HubSpot, Skillshare, MailChimp, Zoom, Clubhouse, and of course, Ahrefs.
It is simple to post a job on Hey Marketers. Share the URL to an existing job posting with your email, pay, and the space is yours for 30 days—subject to moderator approval, of course. There is no need to create a new posting because all information will be pulled from the link you provided.
2-DGMG Jobs
Who it's for: B2B marketers
Website: https://dgmgjobs.com/
Cost of listing a job (for hirers): $50 for 30 days (regular); $150 for 30 days (featured)
DGMG Jobs offers a mix of full-time and remote positions for B2B marketers of all levels of experience. Dave Gerhardt is the seasoned marketer behind the Dave Gerhardt Marketing Group (DGMG), which combines an online university, a paid Facebook community, and a podcast series.
At the time of writing, there were over 50 open positions spanning product marketing, demand generation, and customer relationship management marketing from mostly US-based companies (including Shopify and Bain & Company!).
We also recommend that you follow Gerhardt on Twitter for regular updates on DGMG Jobs.
What we find most intriguing is that the job board started as a scrappy weekly compilation of manual listings in Google Docs, which Gerhardt saw as an opportunity and relaunched as DGMG Jobs.
Listing a job is as simple as four steps: choose your plan (regular or promoted), create your listing, pay for it, and decide whether to boost it for an additional $100. If you do, it will be highlighted on the homepage for 30 days and will be promoted on DGMG's social media accounts, newsletter, and Facebook community.