You work tirelessly to understand your customer, market, and competitors so that you can stand out. Voice-of-customer (VoC) research, user research, competitor research, and insights on jobs-to-be-done (JTBD) can all help to shape your marketing strategy.
Brand tracking allows you to see if your efforts are paying off.
Brand tracking provides both qualitative and quantitative answers to the following critical questions:
What do your customers think of your brand?
Are your campaigns resulting in conversions?
Do your customers know who you are?
Is your messaging consistent across all touchpoints?
Is your brand on the minds of the majority of consumers?
Have you created a sense of worth?
In this article, we'll discuss key brand tracking metrics as well as methods for measuring and optimizing your success.
Metrics for tracking key brands
Brand tracking measures changes in your brand perception and provides some insight into the ROI of your branding investment. However, branding spend (and thus tracking) cannot be measured in isolation.
The ROI of brand awareness is less obvious and quantifiable than the ROI of conversion rate formulas, which produce statistically significant results. However, this does not diminish its worth.
Qualitative data is an excellent predictor of positive changes in brand awareness and customer sentiment. To effectively track brand awareness growth, you must collect both quantitative and qualitative data.
NPS and CSAT
NPS (Net Promoter Score) and CSAT (Customer Satisfaction Score) are two methods for calculating customer sentiment and satisfaction.
Use NPS to track customer experience improvements against baselines and competitor data, as well as to forecast future growth (NPS and loyalty are highly correlated):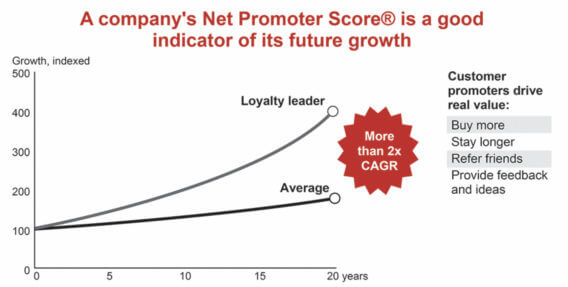 Customers are asked to rate their satisfaction with your brand on a scale of 1 to 5.
Use this to assess customer satisfaction at each touchpoint in order to identify points of friction and areas for improvement.
CSAT surveys, for example, could be used at various stages of the buyer's journey (distributed across leads so as not to bombard a single customer with multiple questions). You may discover that your CSAT score is lowest on average at the point of transition between sales and service.
This will show you exactly where your brand experience requires improvement.