We've recently seen a slew of new features and tools that come with social media apps, and Instagram is a strong pioneer in this space. And in this post, we'd like to emphasize the power of Instagram Stories as the ultimate lead generation machine you didn't know you had.
As things stand, many online businesses that use Instagram Stories rely on its most basic features. They may re-post their Feed posts to their Stories. Or they'll use it as a free online billboard to constantly promote their products and services.
While there is nothing wrong with these methods, we are aware that there is a better way. Instead of simply using Instagram Stories to repeat content you've already published on your feed or other platforms, try it on for size.
Here are seven highly effective ways to use Instagram Stories to convert followers into leads and sales.
How to Use Instagram Stories to Generate Leads
1-Share your Instagram Stories on Facebook.
This feature has been available for some time, but recent improvements have made it easier to use. By cross-posting your Instagram Stories to Facebook, you not only automatically share the same content on two platforms, but you can also take advantage of Instagram Stories' powerful features and have them translate on Facebook Stories as well.
Polls, for example, will appear on Facebook if you post them on Instagram Stories and cross-post them. They provide the additional engagement required for people to interact with your brand on a platform as busy and crowded as Facebook.
Another reason to follow this advice? Your Facebook page may have more followers than your Instagram account. This is true for a wide range of brands and businesses, so take advantage of these new social media features.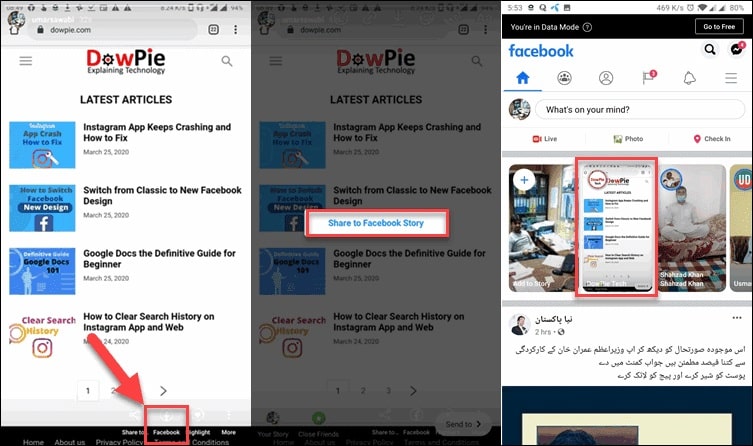 How does cross-posting your Facebook Stories generate leads?
You'll have a better chance of getting users to check out your Facebook page if you create the right kind of Instagram Stories that capture the attention of even your Facebook followers.
You might have feed posts on your Facebook page that link to free lead magnets and offers, or you might have a clear CTA for customers to check out your promotions on your online store or book a call.
There's no denying that Instagram has fewer options for redirecting users via links. It also takes no effort to auto-publish Stories from Instagram to Facebook, so you're not losing anything by incorporating this into your strategy.
2-Use the Question Sticker to create opt-in forms.
We mentioned in the previous section that Instagram's link capabilities are limited. As a result, it's difficult to direct users to different landing pages, particularly those for lead generation and email collection.
Is there a workaround for this? We have a solution: the Instagram Stories Question Sticker.
The Question Sticker is typically used by brands and creators to encourage users to interact with them. Thought leaders use this to allow their users to ask them questions, which they will then answer, and brands use it to collect quick insights and thoughts from their customers.
What if you converted this Question Sticker into a lead generation form?
Here's how to go about it.
Add the Question Sticker if you're on Stories promoting a free lead magnet, such as a free downloadable that you want to email to users.
Then, in the text area, include a call to action such as "Leave your email below" so that users can leave their email addresses, which you can later add to your mailing list. Of course, make sure to send the freebie to the users!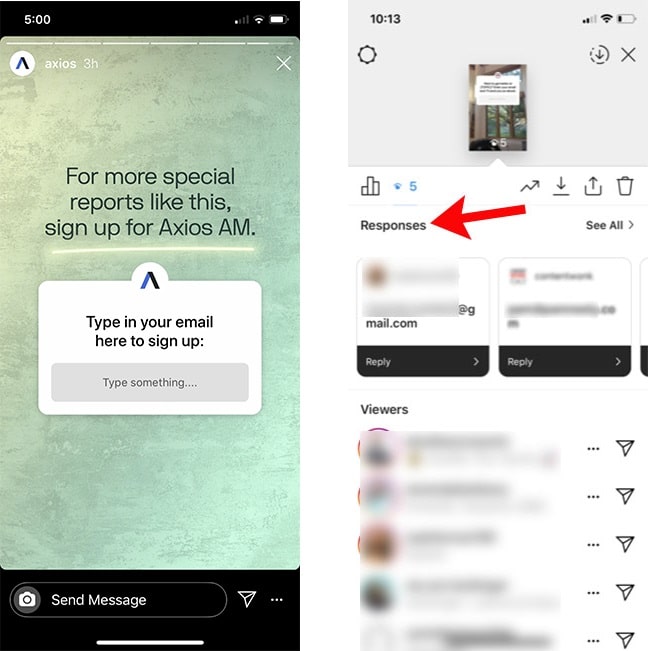 Check out these additional tips to help you make the most of this tip:
Show users what they could get in exchange. Could you send them a mockup of the freebie they'll get in their emails?
Build up to your request. Before you post a Question Sticker asking people to leave their email addresses at the door, post a series of Stories that will hopefully prime them and get them excited about your freebie.
Why aren't you getting a lot of email sign-ups? Engage with the accounts of your ideal audiences to capture their attention and get them to view your Stories.