Dynamic search ads are a type of campaign that enables advertisers to capitalize on queries that would not have triggered their ads in the absence of the query. They can be an excellent resource for identifying new keyword possibilities that you might not have discovered otherwise.
We'll discuss what dynamic search ads are, how they work, and how to leverage them in this article.
What Are Dynamic Search Ads and How Do They Work?
Dynamic Search Ads, or DSAs, work by identifying terms relevant to your business using your website's organic index and/or feed (if you have one set up). The attractive feature of DSAs is that advertisers are not required to include keyword targets. DSAs are typically used in addition to traditional search campaigns to assist advertisers in capturing additional traffic that their search campaigns may be missing.
Advertisers can write the majority of their ad copy themselves. While advertisers have complete control over their ad text in Microsoft, Google's headlines are generated dynamically based on the query and the content of the landing page.
In both cases, the landing page is dynamically selected based on the search engine's determination of the most relevant page within the advertiser's targeting. If an advertiser is only targeting a single URL, that URL will be used by default.
Establishing a DSA Campaign
To begin setting up a DSA campaign, create a new campaign and select a search campaign as you would normally.
You'll find an option to input "Dynamic Search Ads settings" within the settings.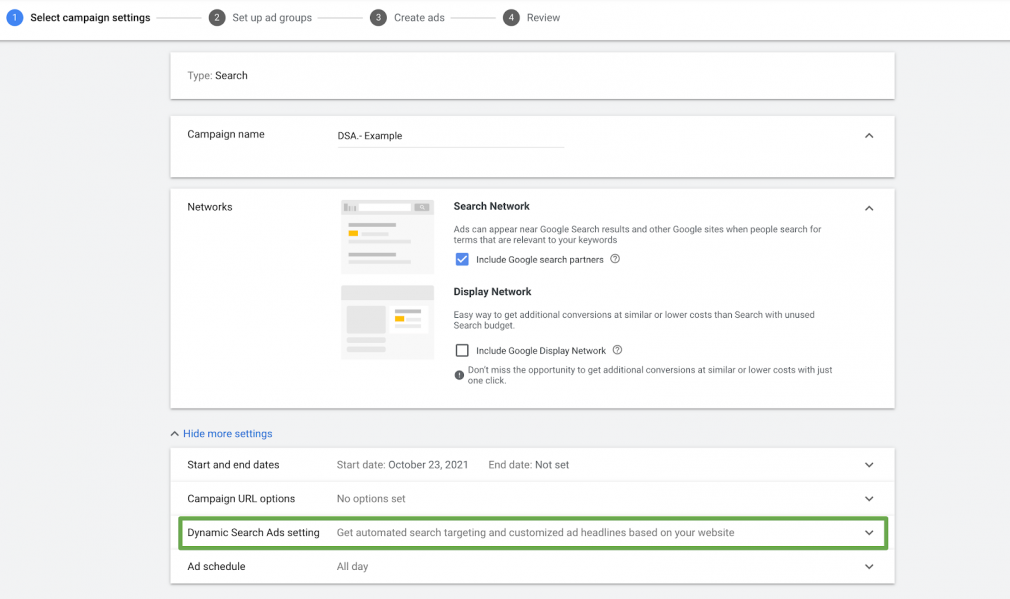 You'll want to expand that box in order to make any necessary changes. You'll enter your domain, the language you want to target, and the source of your dynamic search ads in the settings.
By default, the campaigns access your website via Google's index. You can, however, use a feed, or a feed in conjunction with Google's index, if you have one configured.

Complete the remaining fields in your settings (budget, geography, and so on) and then click "Save and Continue."
Following that, you'll be directed to a page where you can create your ad groups. Because you've included dynamic search ad settings, the default ad group type will now be "dynamic." This is ideal because it is precisely what we desire. You can now select your targeting options. You can choose to target a single category, all of your landing pages, specific pages, or all of your pages.
Additionally, if you're utilizing a feed, you can target custom labels. I've chosen "landing pages" for the purposes of this example. Targeting landing pages is a good place to start because I'm certain I'm happy with the traffic directed to these pages.
If you use your entire site, it's critical to consider exclusions for pages that you don't want to pay to send visitors to (for instance, customer support pages could be an example). Depending on the product or service you're selling, you may wish to segment your audience more precisely so that your ad copy is more relevant to the various products or services.
After clicking "save and continue," you'll be prompted to configure your ads. These are similar to expanded text ads, except the headlines are generated dynamically, and thus cannot be edited in Google dynamic search ads (in Bing, you can). As a result, you'll need to create description lines one and two.

After clicking "Save & Continue," you'll have an opportunity to review the campaign before pushing it live. It's that simple!