Ads optimization on Facebook
Who sees your Facebook ad is affected by how you optimize. Facebook will show your ad to people who are most likely to take the desired action.
Systems are extremely effective (click word to read full description). They have an absurd amount of data at their disposal that they can use to ensure that your ad is seen by the right people who are most likely to act. However, despite its strength, it has some flaws.
This is not to say that Facebook ad optimization is a bad thing. It means that there are some specific situations and settings to be aware of, if not avoid.
Let's talk about how Facebook ads optimization works, the scenarios that could cause issues, and how you can avoid them in this post.
What is the Process of Facebook Ads Optimization?
It is critical that you comprehend how Facebook ad optimization works. Once you understand how optimization works, you'll be able to predict potential pitfalls.
While you create a "pool" audience in the ad set,
An ad set is a grouping of Facebook ads that determines settings such as targeting, scheduling, optimization, and placement.
Click word to read full description, Facebook understands that some of the people in that audience are more likely than others to take the desired action. Facebook will make a concerted effort to reach those people while avoiding those who are more likely to result in a wasted impression.
The "desired action" is critical. Some people are more likely to click, while others are more likely to watch a video and still others are more likely to convert. All of these audiences and characteristics are distinct.
You select the action you want Facebook to optimize for at the bottom of your ad set.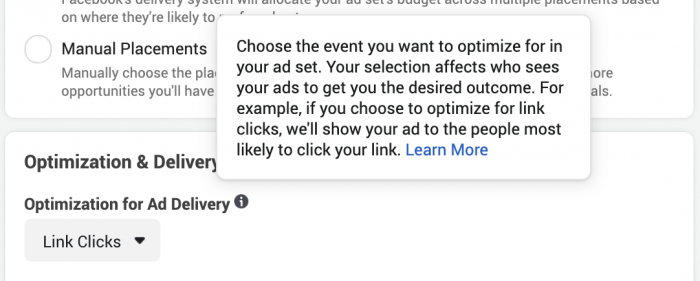 According to Facebook:
In your ad set, select the event for which you want to optimize. Your choice influences who sees your ads, resulting in the desired outcome. For instance, if you decide to optimize for link clicks.
The link click metric tracks all clicks on links that direct users to properties both on and off Facebook.
We'll show your ad to people who are most likely to click your link (click word to read full description).
Depending on your optimization event, the pool of people changes. This is critical. In theory, if you optimize correctly, you will get more desired actions while saving money on waste.
Facebook Isn't Concerned With Quality
Consider how Facebook's automated systems can be misled. In most cases, Facebook is unconcerned about quality. They only care about getting you as many of these desired actions as possible at the lowest possible cost.
Some people have a habit of clicking a lot. Some people leave comments and show a lot of interest. Videos may take longer to load in a person's news feed than others.
Examine the engagement on your ads. Do you ever get irritated reactions? Do you get complaints from people who see your ads in their news feeds? Do you get a lot of spam or irrelevant comments?
What do you think? This is all about participation! If you optimize for engagement, these are the people who are most likely to be in your pool of desirable people to reach out to. Because engagement is what you requested, Facebook will consider this engagement a success.
Some people click on advertisements. People sometimes click them by accident. Some people have slow internet connections, and the page does not load. There are also bogus profiles and bots that click on things to make them appear genuine.
In Google Analytics, look at the visit quality from your ads. How much time do they spend on your website? Do they give up right away?
Facebook considers all of these clicks and visits to be the same. If you optimize for link clicks or page views,
Landing Page View is a Facebook ads metric that represents the number of times people arrive at your destination URL after clicking a link in your ad.
Facebook will include these people in your pool of potential targets if you click the word to read the full description. When they click, Facebook considers your ad a success.
Why? Because you specifically requested link clicks or landing page views from Facebook. That's all you've got! Success!