Do you want to do more business with TikTok? Do you want to know how to use it to sell more products or generate more leads?
This article will teach you how to use TikTok collection ads, dynamic showcase ads, and lead generation ads to help you meet your marketing and sales objectives.
1: As soon as possible, create your TikTok product catalog
Having a TikTok product catalog up and running will be a game changer if you have a product-based business. This feature enables you to save information about the products you intend to promote via TikTok marketing. In a nutshell, it will make ad creation much more efficient.
Please keep in mind that the Product Catalog feature is currently only available to managed accounts in select markets and is not immediately available to everyone who joins TikTok for Business.
If you have access, you can use your catalog to:
Provide important product information: Product names, descriptions, prices, images, and anything else you believe is important for customers to know about your offerings should be included.
Manage your products as follows: TikTok enables businesses to create product sets and automated rules to provide customized product information.
Create custom videos: After you've added products to the catalog, you can use TikTok's video template or the dynamic video generator to make engaging videos for your ads.
You'll be able to create TikTok collection ads and dynamic showcase ads with a catalog in place, allowing you to highlight specific products you've added to the catalog. The advantage is that the ad will show up-to-date information about the product, such as pricing, availability, and sizes.
Make Your Catalog
To begin, sign in to your TikTok Ads Manager account. In the main navigation bar of your dashboard, select Assets. The following assets will be available to most accounts: Event, Creative, Audiences, and Comments. The Catalog option will appear only after you have contacted a sales representative.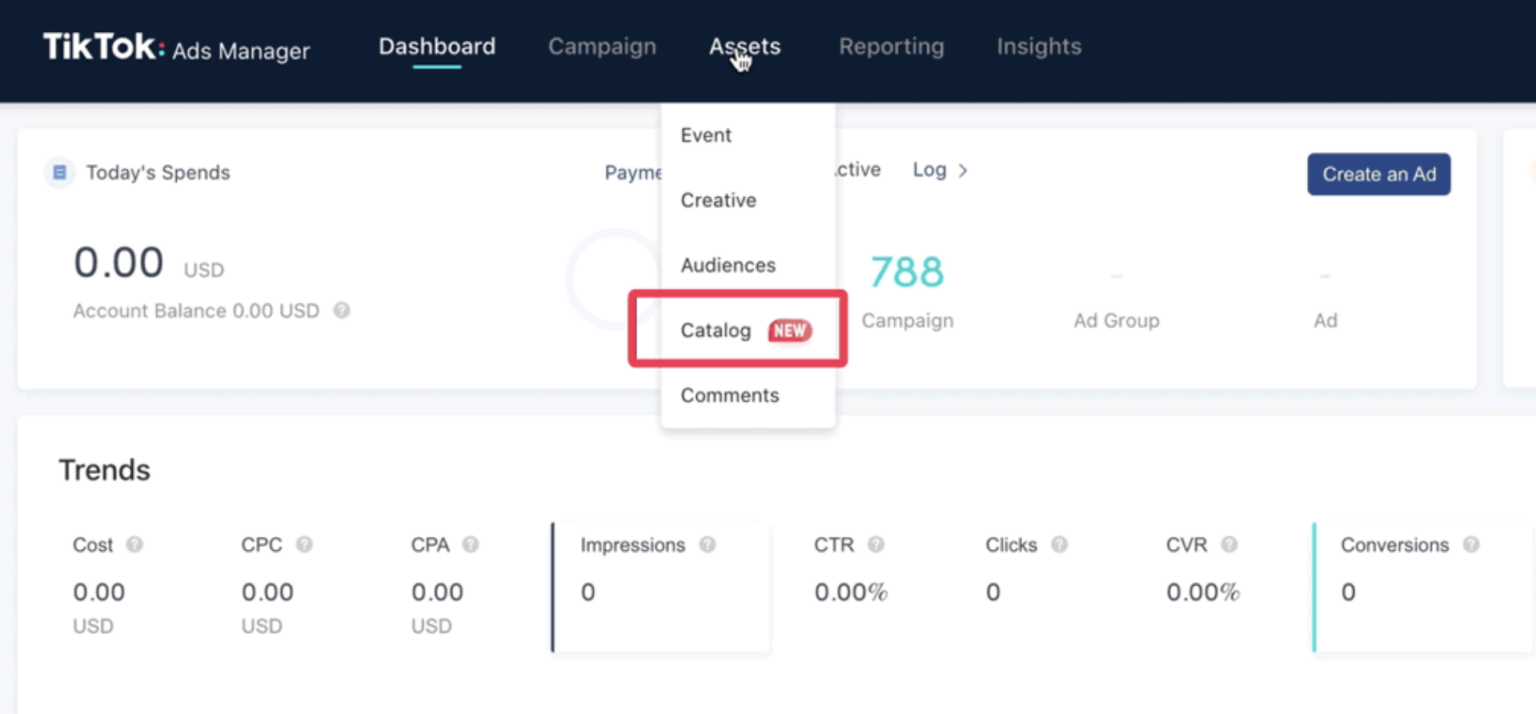 Once you've accessed this page and it's available to you, click the Create button. You'll be asked to enter details about your catalog and its products, such as the industry, catalog name, catalog owner, default currency, and targeting location.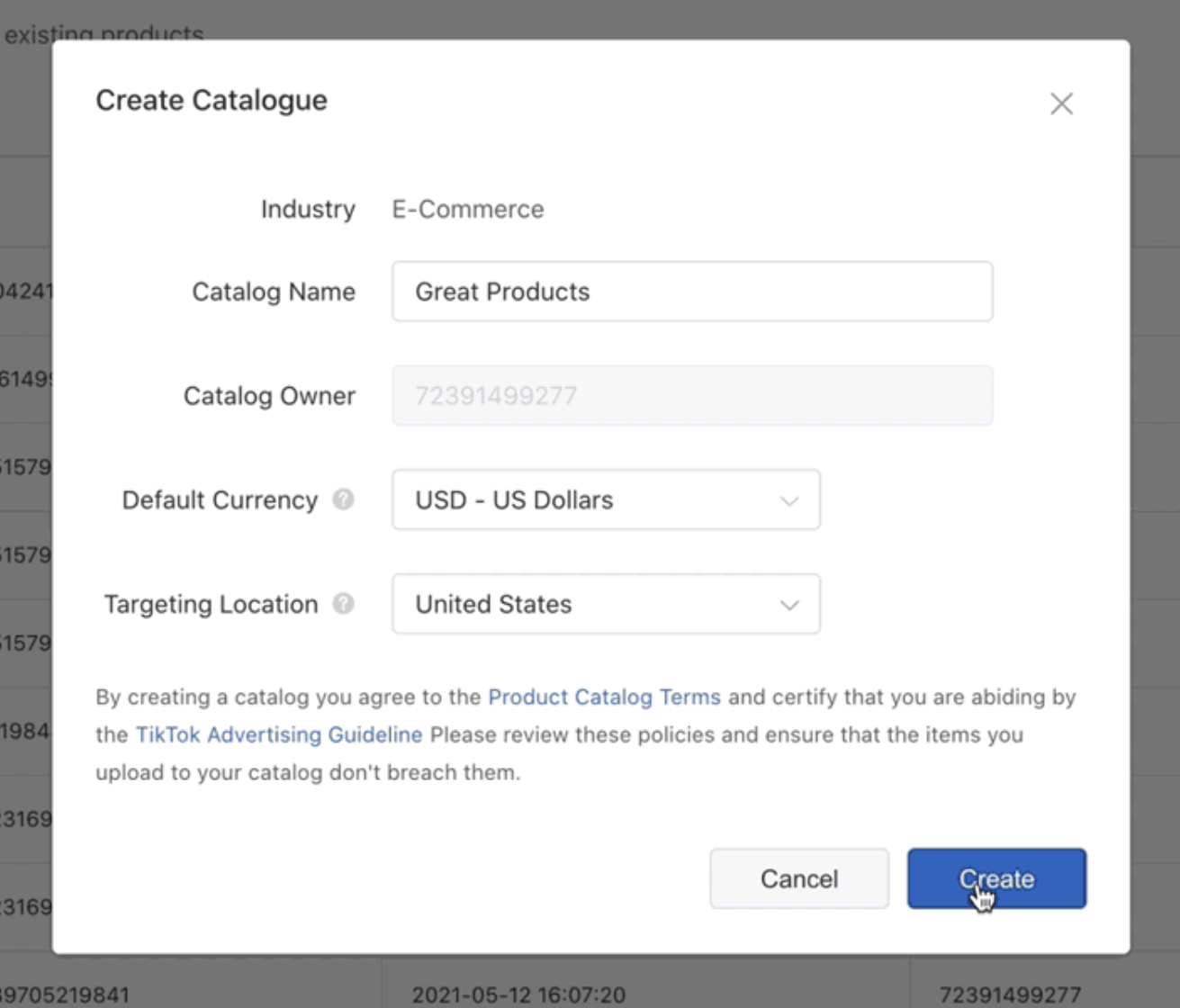 Adding Items to Your TikTok Catalog
You can now begin adding your products to the catalog, which will allow you to create TikTok dynamic showcase ads. To do so, go to the catalog home page and select the catalog to which you want to add products. Select Products from the left-hand menu. Then, on the right, click Add Products.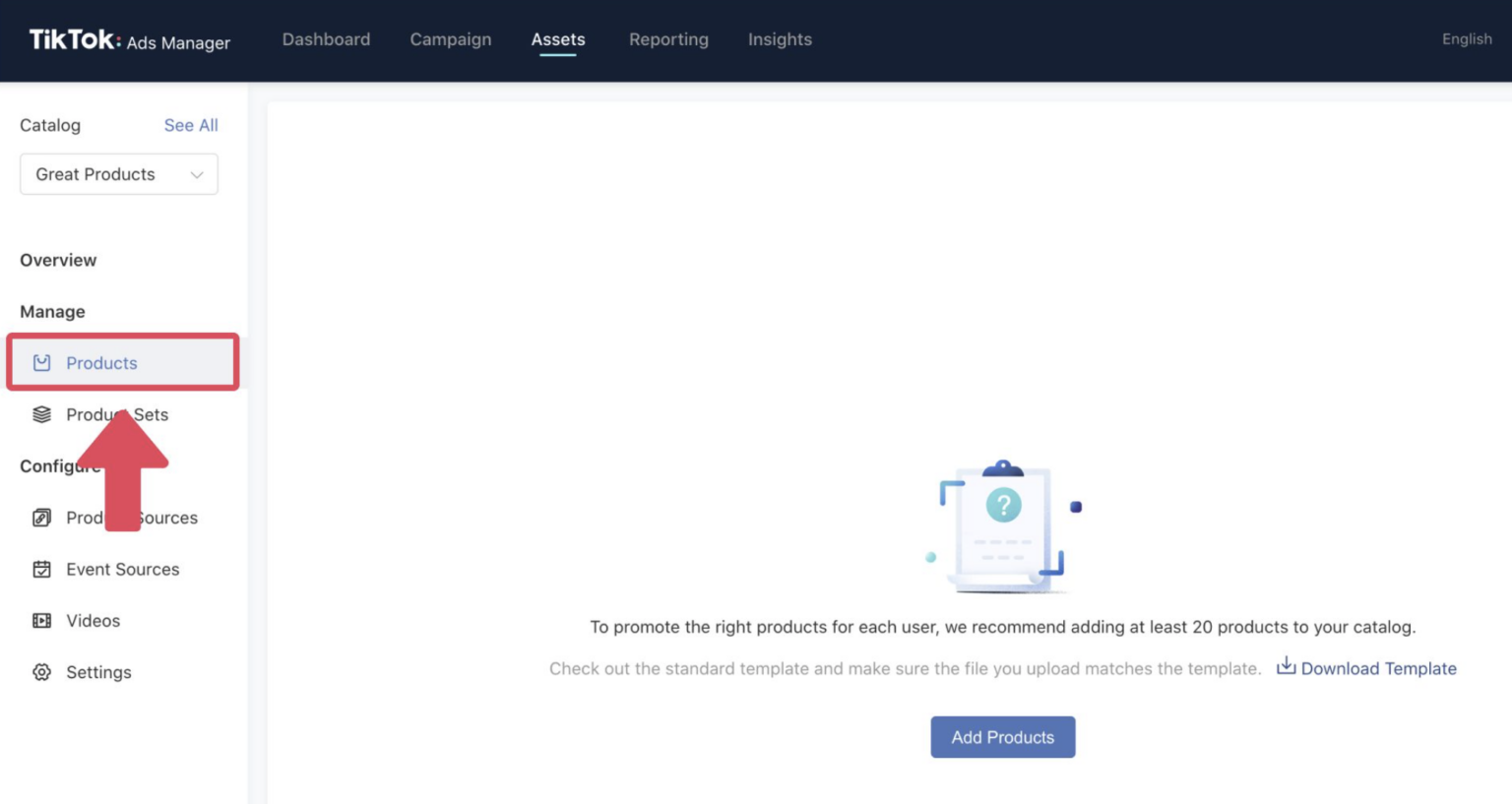 A pop-up window will appear, requesting that you download a product template.
The template asks you to fill out nine specific parameters about your product. There are, however, 35 additional parameters that can be added. The more information you provide, the better TikTok will be able to provide personalized product recommendations. Following that, you'll need to decide how you want to add products to your catalog.
TikTok offers three methods for adding products. You can manually enter your products by filling out a form, upload products from an online file, or upload product files using a template. Choose the option that is most convenient for you.