Everybody writes on a daily basis. Shopping lists, business emails, and even Whatsapp messages are all examples of the writing that we all do on a daily basis. Therefore, why are we afraid to write something longer? Perhaps as a result of the knowledge that it will be read and analyzed by an audience.
However, even if you do not write for people on a regular basis, this does not mean you cannot improve over time. While natural ability is advantageous, writing is fundamentally a craft. Practice makes perfect, and with enough time and effort, you can ensure that the pieces you write improve with each passing day.
This article will teach you how to improve your writing skills and consistently improve the readability of your articles.
To access our best writing resources, scroll to the bottom.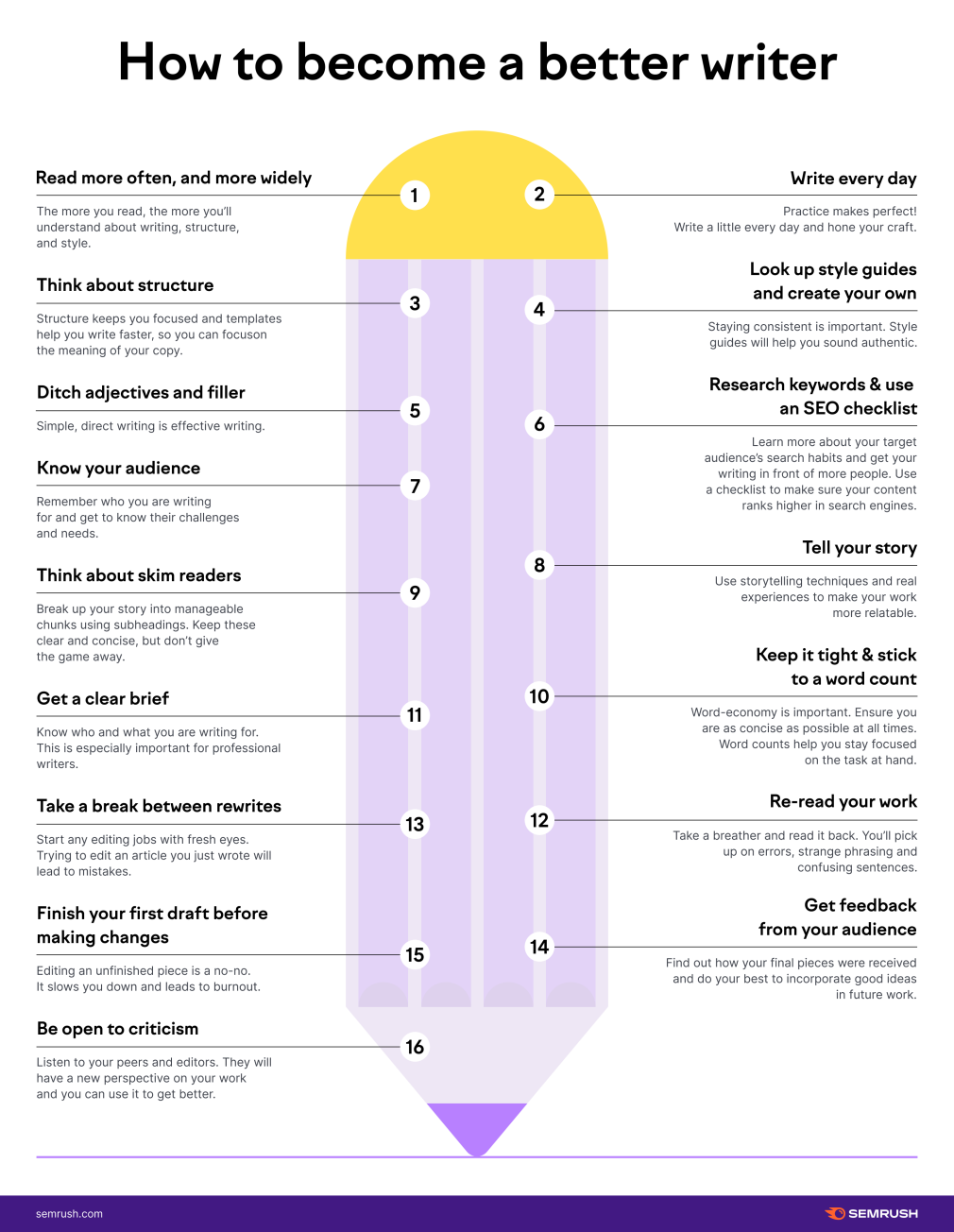 Read more frequently and widely
Reading is the only way to nourish your writer's brain; therefore, read frequently and widely. Making reading a habit will expose you to a variety of writing styles and methods for structuring articles and content, which will benefit your own work.
If you want to learn how to improve your creative writing abilities, According to Josh Krissansen, managing director of copywriting firm bloggerboy:
Read a great deal. Reading fiction teaches writers about narrative structure, while non-fiction by renowned authors teaches writers how to write succinctly and clearly.
Josh Krissansen is the founder and managing director of the copywriting firm Bloggerboy.
Make a point of reading a variety of online content from other brands and competitors. After all, as this guide demonstrates, analyzing your competition can help you improve your own content marketing. Along with identifying excellent articles to inform your own writing decisions, analyzing competing content reveals examples of poor work. These can assist you in avoiding making similar errors in the future.
Write every day
Writing is a skill that requires practice. Unless you are one of a select few extremely fortunate individuals, you will not become a laureate by accident. One excellent writing tip is to write as frequently as possible. This exercises the part of your brain associated with your writing ability.
Bear in mind that writing every day does not require churning out thousand-word articles. If you're serious about learning how to write a better blog, writing little and frequently is an excellent way to get started. With time, as work picks up, you'll gain more experience.