"In order to make money, you have to spend money."
This seemingly benign advice has resulted in the demise of millions of businesses around the world.
While it is true that businesses must sometimes spend more money up front to validate their ideas, doing so with a complete disregard for unit economics can be disastrous.
That is why the Customer Acquisition Cost (CAC) metric is so important. It is the single most important indicator for avoiding wasteful spending. In this post, we'll show you how to calculate CAC and give you some pointers on how to keep it at a healthy level.
How to Compute CAC
The following formula can be used to calculate CAC:
Total Spend on Acquiring Customers / No. of Customers Acquired
However, the phrase "total spend on acquiring customers" can be ambiguous. In most cases, it consists of:
Sales and marketing team salaries
Spending on advertising to acquire new customers (Search/Display Ads, Social Ads, Sponsorship, etc.)
Cost of sales and marketing software/hardware
Agency, public relations, or any other third-party costs associated with sales and marketing
CAC is calculated by summing these costs and dividing them by the number of new customers. Here's how this might look for Company A over the next three months: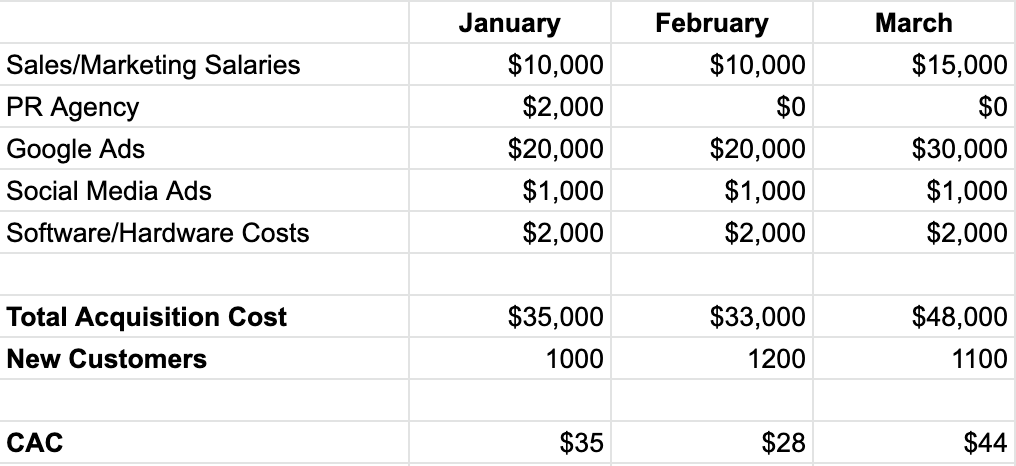 But what if your product provides a free trial and your data team tells you that it takes an average of 30 days for "free trial users" to become paid customers? That would imply that the 1100 new customers in March are the result of the acquisition cost in February.
As a result, in order to properly measure ROAS, you must attribute revenue by their monthly cohorts rather than when they converted.
This calculation becomes more complicated for longer free trials, such as 14 days. In this case, the acquisition cost of both the current and previous month would have an impact on ROAS:
CAC for March (14 day free trial) = [(48000 + 33000)/2]/1100 = $37.
What if your product is freemium (users can use it for as long as they want until they feel the need to upgrade)?
The freemium version has an impact on new user acquisition. Some companies even include a portion of freemium development costs (such as server upkeep) in their CAC. Many people, however, leave it out for the sake of simplicity.
In addition, freemium users have a much longer conversion funnel or "penny gap" than free trial users.
Mailchimp's freemium plan, for example, includes basic features with 2,000 subscribers and 12,000 emails per month. Because it may take some time to reach that threshold, you'll need accurate data to determine when each customer was first engaged. This will assist you in attributing the conversion to the proper acquisition cost.
Another common issue is determining how to calculate returning users. One common method is to include the cost of re-engagement campaigns in the acquisition cost. You won't have to segment new customers this way.
Calculate CAC separately for new and returning users for more accurate data. Re-engaging is frequently less expensive than acquiring new users, and combining the two acquisition costs may provide a more optimistic picture of your CAC.
What is the main takeaway? Determine whether a cost has a direct impact on new (and returning) customers. Include it in your acquisition costs if this is the case.
However, CAC only tells you how much it costs your company to make a single purchase. Lifetime value (LTV) provides a more accurate picture of your CAC efforts.