Are you getting the best possible return on your Facebook advertising spend? Are you using the correct bid type for Facebook campaigns?
In this article, you'll learn about the four different types of Facebook ad bidding and how to select the one that's best for your campaign's objectives.
How Does Facebook Ad Bidding Work?
When it comes to advertising spending, you have more control than you believe. You have the ability to configure how Facebook Ads Manager bids on ad placements. There are numerous options, ranging from simple set-and-forget low-cost bidding to advanced strategies such as minimum return on ad spend (ROAS).
Even if you've spent years writing taglines and tracking UTMs, you may still be perplexed by how Facebook ads work in practice. How does the social network determine which ads to display, where to display them, and when to display them? Why do some campaigns appear to burn through their advertising budgets so quickly? Why are some campaigns never able to spend their entire budget?
It's all about bid strategy. At any given time, Facebook has a limited number of advertising spaces available (and its various properties, from Instagram to the Audience Network). When you run an ad campaign, Facebook will automatically bid for some of those spots on your behalf.
If your bid is successful, you will be awarded the ad space. If someone else wins, the funds remain in your advertising budget until a new opportunity presents itself.
However, it is not always necessary to be willing to spend the most money. When comparing different bids, Facebook considers the ad's quality, relevance, and conversion probability. Thus, if your ad appears to be more relevant for a particular spot, you may be able to outbid a competitor despite offering a lower bid. Facebook actively subsidizes high-quality or more likely-to-engage advertisements.
You, on the other hand, have control over the amount you're willing to bid. Rather than allowing Facebook to operate automatically, you can customize your budget and priorities for maximum effect. You choose whether to prioritize high-cost, high-value bids or a more cost-effective strategy. Additionally, you can supplement your advertising budget by creating attractive, relevant, and engaging advertisements.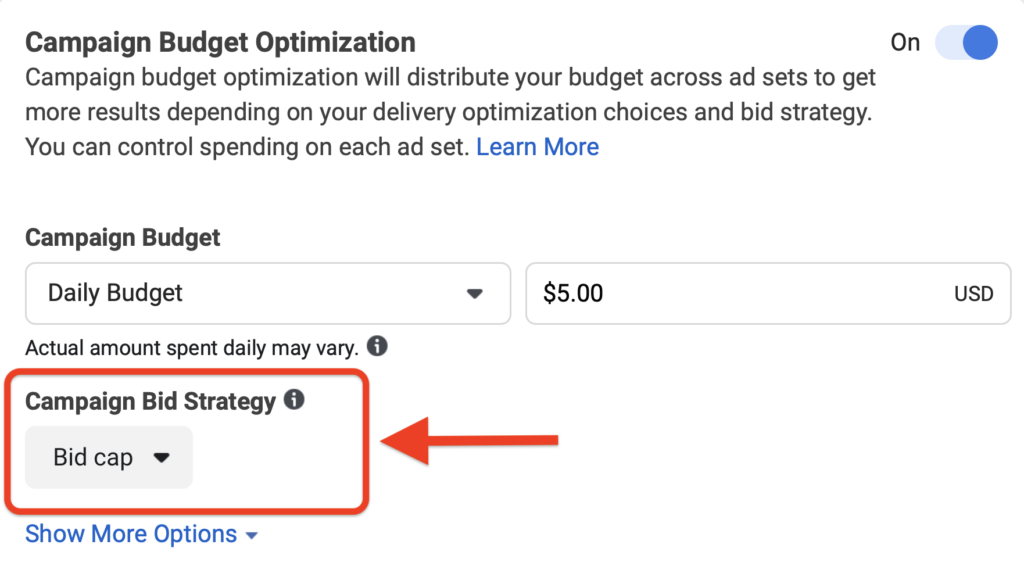 There are four distinct methods for bidding on Facebook ad space. Each will have a different effect on your budget, results, and spending rate.
Bidding at the lowest possible price
Competitive bidding with a cost cap
Bid cap bidding ROAS minimum
You're about to discover how to use these options, as well as where to find them within the maze of settings and drop-down menus that we refer to as Facebook Ads Manager. And I'll provide some guidance on how to determine which Facebook ad bidding strategy is the most cost effective for your business.