Combine opportunity, strategy, and action to determine the best approach for your pharmaceutical brand.
For many of us, particularly those in the pharmaceutical industry, the last 18 months have been a rollercoaster ride. The COVID-19 pandemic has changed the way pharmaceutical companies communicate and deliver their products: consumers are becoming more knowledgeable and proactive, while businesses must adapt to an increasingly digital-first world.
And all of this has occurred in the context of broader trends that KPMG believes will have a significant impact on revenues, business and operating models:
"The pharmaceutical industry is at a fork in the road. In a heavily disrupted marketplace marked by shifting payer attitudes and patient empowerment, neither incremental adjustments nor steady evolution are likely to halt the traditional pharmaceutical business model's decline."
As a result of these various trends, it is critical for businesses to assess their digital communications and value delivery. Brands in the pharmaceutical industry must continue to innovate and improve the effectiveness of their online experiences and customer engagement communications. To compete in 2022, it will be critical to have a clear, coherent, and integrated marketing strategy.
But why is having a marketing strategy important? To help explain why, I've highlighted some of the key elements from Smart Insights' marketing strategy definition below.
"A proactive, data-driven approach to all marketing and communication channels and touchpoints." Because all marketing plans stem from this overarching structure and vision, the marketing strategy informs all marketing activity taking place for the business. Marketers use tactics to put in place their actions that drive to the result once the strategy has been established and communicated."
For pharmaceutical and healthcare companies looking to develop their marketing strategies, Smart Insights has a wide range of strategic marketing guides, resources, and templates. As we all know, in order to succeed in pharma marketing today, marketers and managers must employ a data-driven, customer-focused approach to strategy and planning, such as our well-known RACE Framework lifecycle.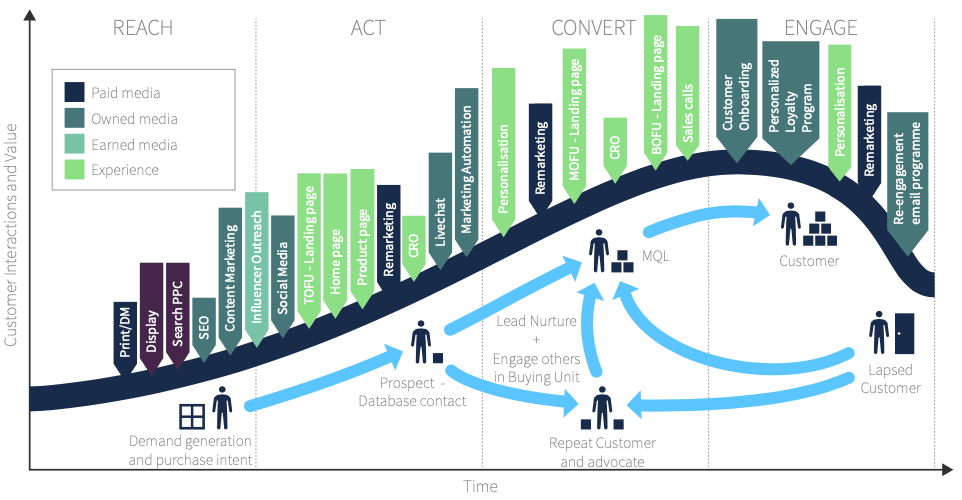 Join as a Business Member today to gain instant access to a plethora of pharma marketing tools, some of which are mentioned in the article below, designed to help you convert more healthcare and pharma customers.
This post will look at some of the key steps you can take to develop a pharma marketing strategy that will position you for success in 2022.
The most important trends in the pharmaceutical industry
Although many strategic marketing models, frameworks, and plans can be applied to companies in various industries, we must first recognize the key trends in the pharmaceutical industry that will underpin your marketing strategy.
1-The COVID-19 pandemic's impact on content marketing
While the pandemic is undeniably the most significant trend affecting the pharmaceutical industry, it is worth investigating how it has influenced marketing. The pandemic has compelled many pharmaceutical operations to go online, opening up new channels of communication with customers. This has given pharmaceutical companies the opportunity to create content for both healthcare professionals (HCP) and patients and distribute it through various channels. It's more important than ever to understand the customer/patient information journey and how to communicate with them at various stages: