The classic life cycle of a successful product is divided into four parts:
Introduction
Growth
sMaturity
sDecline
How this story unfolds is heavily influenced by the type of product and how, if at all, it has been improved over time.
However, the shape of the curve—the length of the arc and the rate of decline—is also determined by how the product is marketed at each stage of its life cycle.
In this article, we'll look at the various stages of the product lifecycle through the marketing lens. You'll learn about the various strategies available and how they'll affect the future of your product.
(Would you like to learn more about product marketing? Participate in the Product Marketing Certification Training course).
Development comes before introduction.
The standard four-stage lifecycle graph looks like this: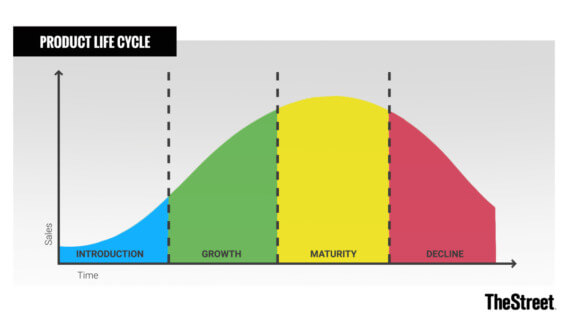 These are the four stages of a product on which we will concentrate.
On a more detailed graph, however, the introduction phase would be preceded by a product development stage. This stage is used to determine the viability of your product and when it should be released to the market.
Depending on its complexity, new product development can take years, with research, prototyping, and production costs accruing but no revenue generated.
As a result, it may be a good idea to create a minimum viable product (MVP) as soon as possible to demonstrate to investors and customers how your product will work.
"Instead of spending years perfecting our technology, we build a minimum viable product, an early product that is terrible, full of bugs, and crash-your-computer-yes-really stability problems. Then we ship it to customers way before it's ready. And we charge money for it." – Eric Ries, The Lean Startup
A well-timed MVP reduces the risk of investing repeatedly only to discover that a product isn't going to be a success. It also provides you with a product to market.
Product lifecycle marketing is still in its early stages.
You can use the development stage to generate buzz for an MVP or a product you're confident in talking about ahead of launch.
The goal of your marketing strategy should be to raise brand awareness. You want to convince people that your upcoming product will solve real problems. To accomplish this, conduct research on your target audience and create customer personas.
In his post on identifying your online target audience, CXL founder Peep Laja explains the benefits of this:
If you are aware….
You know who the people are and how to contact them (the blogs they read, the websites they visit, the searches they conduct on Google, and so on);
Based on how they describe the services you provide, you can tailor the copy on your website to match the conversation in their head (very important! );
You understand how customers choose and compare products in your category, as well as how to structure and prioritize content on your website.
Your value proposition can state exactly what they want, and the entire site can be 98 percent relevant to them.
You can dismiss and remove anything they don't care about from the site.
You know which end-benefits to communicate based on how their life has improved as a result of your service.
Once you've determined who you're speaking with, you can start laying the groundwork for what's to come.
A coming soon landing page is an effective way to accomplish this. Share it on your personal and business social media profiles to build a targeted list of early adopters.
A landing page should include the following elements:
A proposition for value
Advantages of the product
Images of the products
A single call to action
Here's an example from App Manager 5.0, which encourages people to join its mailing list in exchange for early access: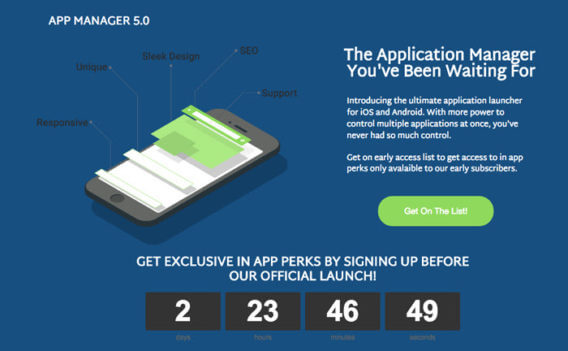 They also have a countdown timer. This adds scarcity, which helps to put users under gentle pressure to sign up.
Use endorsements from industry influencers or positive feedback from customers who have tested your MVP whenever possible.
Leadpages did this ahead of the launch of its Center marketing platform: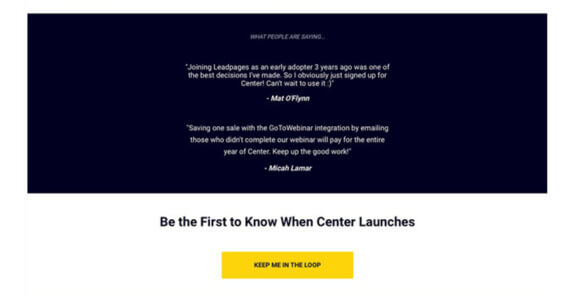 Social proof is a tried and true method of persuading people to take action. When CXL's Shanelle Mullin asked GetUplift.co's Talia Wolf about it, she said:
"By using social proof in the form of testimonials, reviews, and trust icons, you're assisting customers in making a decision, feeling confident in their decision, and being a part of something bigger." With careful planning, you can elicit specific emotional triggers that influence customers' feelings toward their purchase and your company."
Social proof can also be repurposed on social media to begin building trust prior to the launch of your product. The more people you can get talking about your product, the more excitement you can generate as you enter the introduction stage.