Do you want to start a forum on your blog but don't know where to start? In this article, we'll walk you through the steps so you can set it up on your own.
If you've just started a blog, online forums are a great way to build a community and engage in relevant discussions. Furthermore, they can assist you in driving traffic to your blog in order to increase readership and engagement.
However, with so many forum tools available, it may be difficult to choose the best one. And, in any case, how do you add a forum to WordPress?
In this article, we'll walk you through the process of adding a forum to your blog.
What Exactly Is a Forum?
A forum is a type of online discussion board where users can share their ideas, content, media, questions, and other information. It enables communities to easily interact and share ideas, typically on specific topics.
Here's an example of a forum on WeddingBee, a popular wedding blog: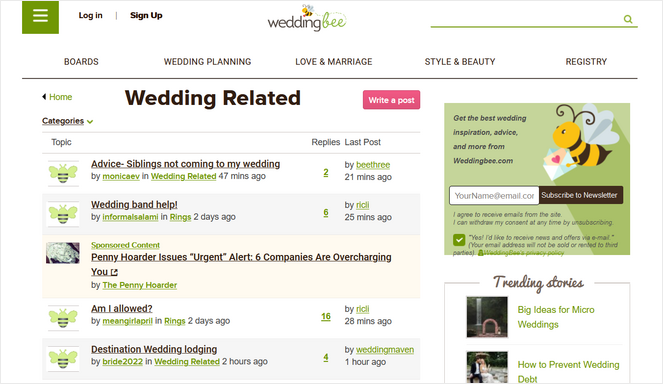 Users can ask questions about wedding-related issues and receive helpful advice from other members of the community.
Another example is The Blood Sugar Diet, a health and food blog that uses a forum to allow users to submit topics, questions, and feedback on topics such as diet, exercise, and mindfulness.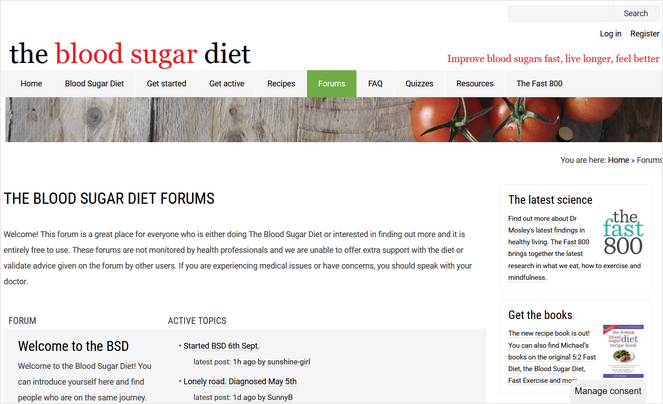 You can create a forum on your blog to discuss any topic with your readers. However, we recommend that your forum be related to the niche of your blog; this will make it easier to attract your target audience.
Why Include a Forum on Your Blog?
Forums allow everyone to express themselves and connect with others who share similar interests and problems.
And it's critical that you create a community around your blog in order to develop a loyal readership that returns. Many people will move on to the next blog if they don't feel like they belong.
However, with an active forum on your blog, you can stand out from the crowd and keep users coming back for more.
Aside from creating a community, here are some other things a forum can do for your blog:
Improve SEO and Increase Traffic
Your public forums will be brimming with keywords and new content, which will help you improve your search engine rankings and drive more organic traffic to your blog.
Gather Feedback and Data
Start an online discussion about topics relevant to your industry to get to know your target audience better. This assists you in developing future blog post ideas and campaigns that are more likely to convert.
Increase Participation
Forums are ideal for increasing blog engagement because they are built around conversations. Your discussion posts can be used to answer questions, link to relevant blog content, promote campaigns, build an email list, and much more.
Now that we've established the advantages of adding a forum to your blog, here's a step-by-step guide to get you started.
But before we begin, let's double-check that you have everything you need.