It's critical to stay active on Instagram if you want to keep your audience engaged. Regular posting ensures that your profile is visible in the feeds of your followers, keeping it at the top of their minds. It also improves your chances of being discovered by new users.
While you can use the Instagram app to publish your posts, it lacks the ability to schedule content, which means you're out of luck if you want to post content when you can't use the Instagram app.
There are a number of third-party solutions available to assist you in managing your Instagram profile, but while they may provide the features you require, they are usually paid.
With the launch of Creator Studio, Facebook has created a free tool that allows you to easily manage your Instagram profile, including the ability to schedule content and more.
In this section, we'll go over what Instagram Creator Studio is, how to use it, and why it's a good alternative to third-party solutions.
What exactly is Instagram Creator Studio?
Creator Studio is a set of tools that allows you to post, schedule, manage, monetize, and analyze content on your Facebook or Instagram pages. Although it was first introduced in 2017 as a Facebook-specific tool, its functionality was limited and difficult to use.
Creator Studio, which was relaunched in 2020 with Instagram support, has grown in popularity, in part because Facebook is phasing out its Publishing Tools for Pages, and also because, unlike many third-party scheduling solutions, Creator Studio is free and native.
Instagram Creator Studio allows you to:
On your desktop, you can see an overview of all your content (photos, videos, IGTV, Stories, and so on).
Schedule your Instagram content and gain insights into post and profile metrics such as performance, follower data, and engagement type.
If eligible, monetize content and manage brand collaborations.
Before You Begin Using Instagram Creator Studio
Before you can begin using Instagram Creator Studio, you must first ensure that your Instagram account is properly configured. You will require:
An Instagram account as well as a Facebook page
To link your Instagram account to your Facebook Page, follow these steps.
If you haven't already, convert your Instagram account to a Creator Account or business profile.
How to Integrate Instagram with Facebook Creator Studio
After you've ensured that your Instagram account is properly set up, connecting it to Creator Studio is a simple process. You must do the following:
Go to https://www.facebook.com/creatorstudio to learn more.
Click the Instagram icon in the top-right corner of the page.

To access the Instagram login page, click the Instagram Login button. To log in, simply follow the instructions.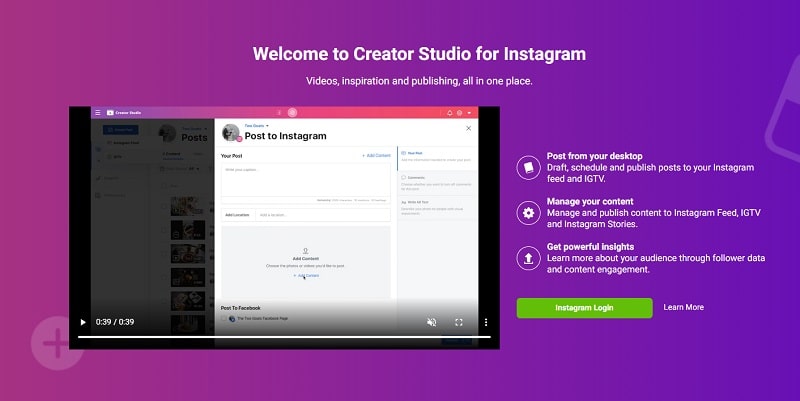 If you haven't already linked your Instagram account to a Facebook page, you'll be guided through the process.
Congratulations! You've successfully linked Instagram to Creator Studio, and you can now use the tool.