Pinterest is an excellent platform for getting your brand noticed online.
After all, the world's 14th largest social network has approximately 454 million monthly active users.
Brands looking to improve their Pinterest performance should consider Pinterest image sizes.
Certain image sizes are more likely to catch Pinterest users' attention, and it's critical to understand how size affects Pinterest success.
The more attention you get, the more potential web visitors you'll be able to convert.
We've compiled a list of the best Pinterest image sizes for driving website traffic to assist you.
We'll look at how different pins and sizes affect traffic and how you can use this information to improve your own Pinterest marketing.
What Are the Best Pinterest Image Sizes for Your Business?
On Pinterest, you can use a variety of pins, from static pins to video ads. Pinterest has a recommended aspect ratio for each type of pin.
Vertical pins should have a resolution of 1000 x 1500 pixels, or a 2:3 aspect ratio. Pinterest does not recommend images with dimensions less than 600 x 900 pixels.
Pinterest's ads manager also has specific recommended sizes, so be sure to check those before running any Pinterest ads.
You'll want to use the proper image sizing so that your images fit properly without being cut off.
The image below shows pins that adhere to Pinterest's recommended aspect ratio of 2:3.

The best Pinterest image size for your business is determined by a variety of factors, including the type and messaging in your pin images.
This means that you should always test and measure pin traffic and conversions to see what works best.
There are numerous tools available to assist with this, including the Pinterest Business Analytics Dashboard, which includes a custom pin size tool.
When making pins, there are currently eight sizes to choose from: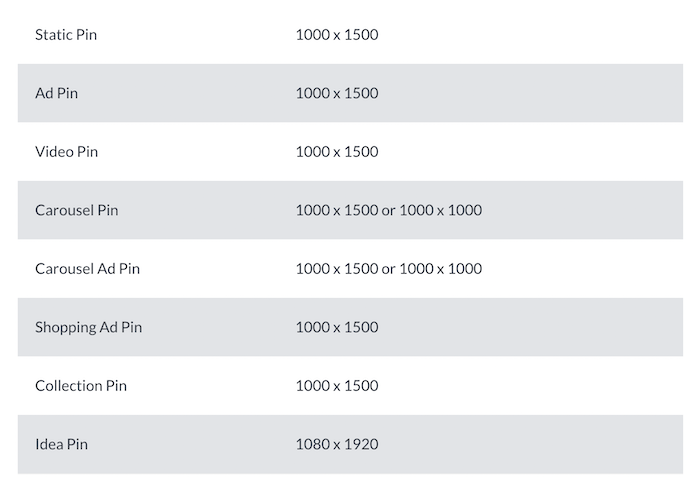 Let's look at how and why these Pinterest image sizes are used, and how they can help you drive traffic to your site.