You're familiar with the process: you create a quick landing page and begin promoting it.
The leads begin to pour in, but there is one problem: none of them convert to paying customers. They are simply waiting.
Does this sound familiar? You are not alone in this. Too many businesses slap together quick landing pages, focused solely on the next step (say, generating leads). They frequently overlook the most critical factor: how the landing page affects subsequent sales conversions.
This frequently results in a pipeline of unqualified leads, wasting your time, energy, and, most importantly, money. What if there was a way to boost not just your landing page's conversion rate, but also your overall sales conversion rate?
What do you think? There is one!
By following the three steps outlined in this post, you can establish a higher level of trust with prospects before they reach your sales team, ensuring that leads not only convert but also become paying customers.
Pre-qualify traffic with your copy
"How much should we spend per lead?" is a question almost every marketer asks.
And, while this question is well-intentioned, it overlooks an important point. While cost-per-lead is a critical metric that should be closely monitored, you should not always strive to generate the most leads at the lowest cost.
Lead generation is a balancing act. You must strike a balance between lead quality and quantity. There is little value in generating inexpensive leads if they are unqualified. This is a waste of your sales team's time and resources.
This is where your landing page comes into play. It can be used to weed out unqualified leads prior to their entry into your sales ecosystem.
This can be accomplished in two ways:
By employing language that speaks subtly to the people you're attempting to reach, while simultaneously alienating those who aren't a part of your target audience.
By being upfront and specifying in a "who is this for" section who you assist and who you do not.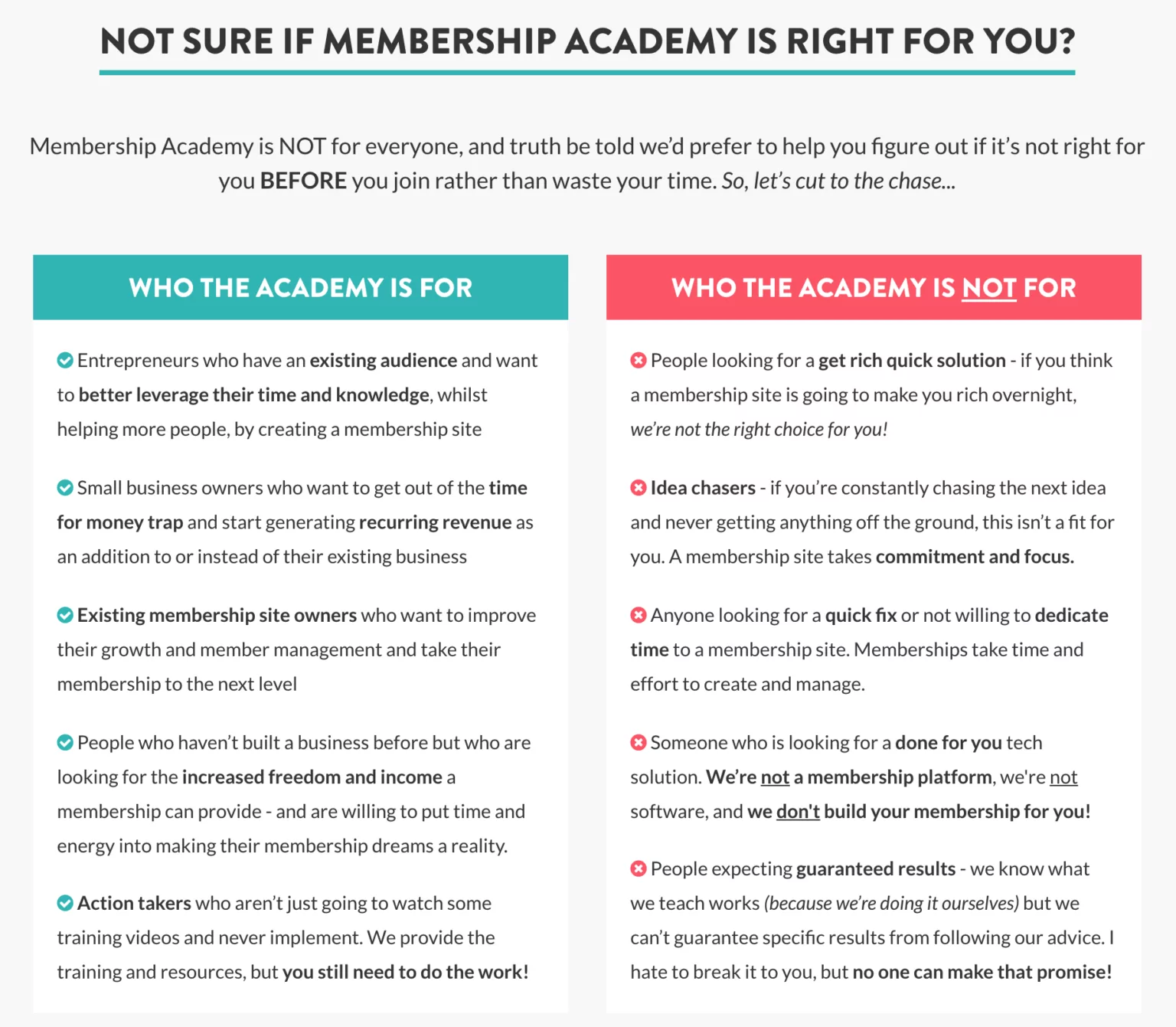 This is an excellent example from Membership Academy, where they clearly state who is eligible for membership and who is not.
Whichever method you choose, there are typically four points you want to address with prospects prior to them contacting you. It is comprised of the acronym BANT:
Budget: Does this individual possess the funds necessary to purchase your product/services?
Is this individual empowered to approve financial transactions?
Need: Is the person who is viewing this landing page someone who is genuinely interested in achieving the result you promise?
When are they looking for a solution?
When creating your landing page, ensure that your copy addresses each of these points to ensure that only the right people reach out to your sales team.