"Take a look at those figures. This has to be a fantastic article!"

The purpose of star reviews, upvotes, and share metrics is to persuade the visitor that something is popular and thus credible.
However, these are only a few instances of social proof.
Together with responses to questions and calls to action, evidence is one of the three primary components of a high-performing page. Typically, social proof is not what the visitor came for; rather, it is what we want them to see while they are here.
And it is one of the most significant distinctions between weak and strong websites.
A page that contains evidence provides reasons for the visitor to believe.
A page devoid of evidence is essentially a collection of unsubstantiated marketing claims.
Contrast these two pages, one with and one without supporting evidence: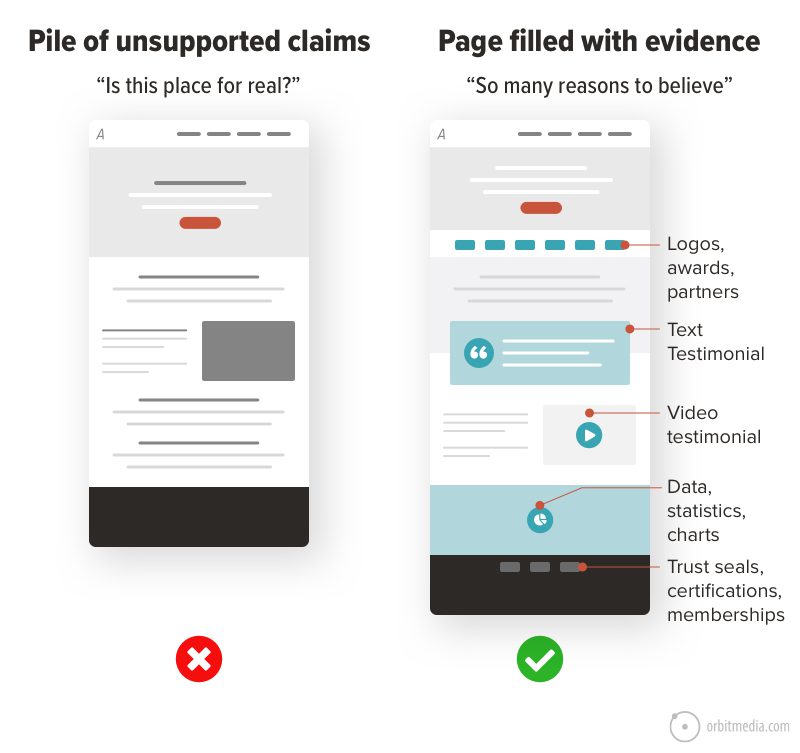 There are numerous types of evidence that you can incorporate into your pages and products. However, in this section, we'll focus on the most prevalent type: social proof.
What does social proof entail?
Social proof is evidence that demonstrates the validity of marketing claims. Social proof leverages an audience's words or actions to bolster the credibility of a brand's value proposition. It's a critical component of high-converting landing pages.
It is effective for a variety of reasons:
By visibly indicating that other people have publicly endorsed your product, service, or content, social proof activates the conformity bias (also known as "herd behavior" or "the bandwagon effect"). It's a psychological phenomenon that your potential customers will find difficult to ignore.
Differentiation is achieved through social proof. Your testimonials are unique to your brand.
They are a more effective carrier of your message. It's frequently more authentic, direct, and disarming than anything you could write.
Where to place social evidence
If no one sees it, it serves no purpose. Thus, social proof should be readily apparent. In other words, it should be near the top of a given page's visual hierarchy.
Here are two general guidelines to help you decide where to add social proof.
Include social proof near the claim it substantiates.
Include social proof in the most prominent locations on the page.
We demonstrated the difference above by comparing two pages side by side. Now, let's examine the pageblock level in greater detail. Naturally, each page has a visual hierarchy, but each scroll depth also has a visual hierarchy.
In other words, each pageblock (modular content area) can be effective or ineffective at guiding the visitor's eyes, making the most compelling messages (in this case, the social proof) easy to see or difficult to see.