YouTube, the world's second-largest search engine (after Google) and second-largest social network (after Facebook), can be an extremely valuable marketing investment for almost any business. The key to getting a high number of views on a consistent basis is to create a channel with a compelling offering. However, very few businesses succeed in this endeavor.
Typically, businesses treat YouTube as if it were a cupboard. A repository for all of their video content, as well as a platform for publishing a diverse collection of videos under their company banner. Without a broader consideration for the channel's overall offering.
However, when carefully and strategically curated, YouTube channels can provide significant long-term brand value. They can assist you in building an audience. An audience that can become customers and spread the word about your products and services. So, what separates the best from the rest?
A well-defined value proposition for subscribers
All of the best YouTube channels provide a clear and straightforward reason to subscribe. By the topics covered, the style of the videos, and the channel's name. A viewer should be able to figure out what's in store for them if they click'subscribe.' I know that when I subscribe to Marques Brownlee, I'm getting in-depth and well-produced tech hardware reviews. I get quick recipes if I subscribe to Jamie Oliver. And if I subscribe to Marie Forleo, I will receive interviews and entrepreneurship tips.
Where most business YouTube channels fail is in failing to define a focus for their channel that is more than just a content repository. As a result, potential subscribers are not provided with an implicit value proposition. The reason for your frequent failure is that using your YouTube channel for this requires you to narrow the scope of your offering. To be clear about the type of content you're producing and the topics you're covering. And to be conscientious about adhering to that scope. This requirement is unpopular with the majority of businesses. Because they (incorrectly) believe that all of their videos must be uploaded to YouTube.
While YouTube is the world's largest video platform, video is bigger than YouTube. Not all of your videos must be included. Videos that are only relevant to existing customers or when viewed in the context of a specific web page should be kept solely on your website and hosted on a different platform.
YouTube channels perform best when the content is entirely focused on a single idea or theme that is larger than the business. "Subscribe to our YouTube channel because it is the channel of our company" is not a compelling value proposition. "Subscribe to our YouTube channel because you'll get the best content on X topic in an entertaining format," it says. So, the first step in creating a successful YouTube channel is to define your value proposition. What are you working on? Who are you designing it for? The more specific, concrete, and focused your responses to these questions are, the better!
There is no filler and all of the content is excellent.
The best YouTube Channels are lean and mean, with no unnecessary or poor-quality content. This includes not only ensuring that everything you publish on YouTube meets a high creative standard on a consistent basis. It also entails making sure that everything on the channel is contextually relevant for a new user discovering your channel who is unfamiliar with your brand or products.
This entails removing esoteric product or sales videos and ensuring that everything on the channel adds value to the average user interested in your area of expertise. Audit your YouTube channel on a regular basis to determine which content is underperforming. Remove low-quality videos so that visitors to your content library can always find your best work.
As a general rule, any videos with a lower than 30% average retention rate, or those with a low number of views from YouTube search and suggested videos, should be considered for removal.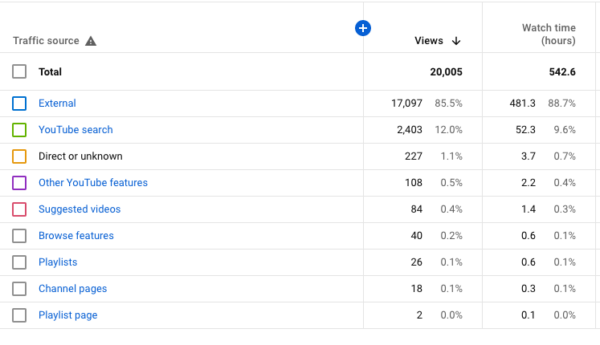 The data can be used to help guide your curation. A strong editorial perspective, on the other hand, is the clearest guide as to which videos should and should not remain on the channel. Keep it if it's high-quality, valuable content that's resonating. It's probably best to remove it if it doesn't appear to be generating a lot of high-quality views and interactions.